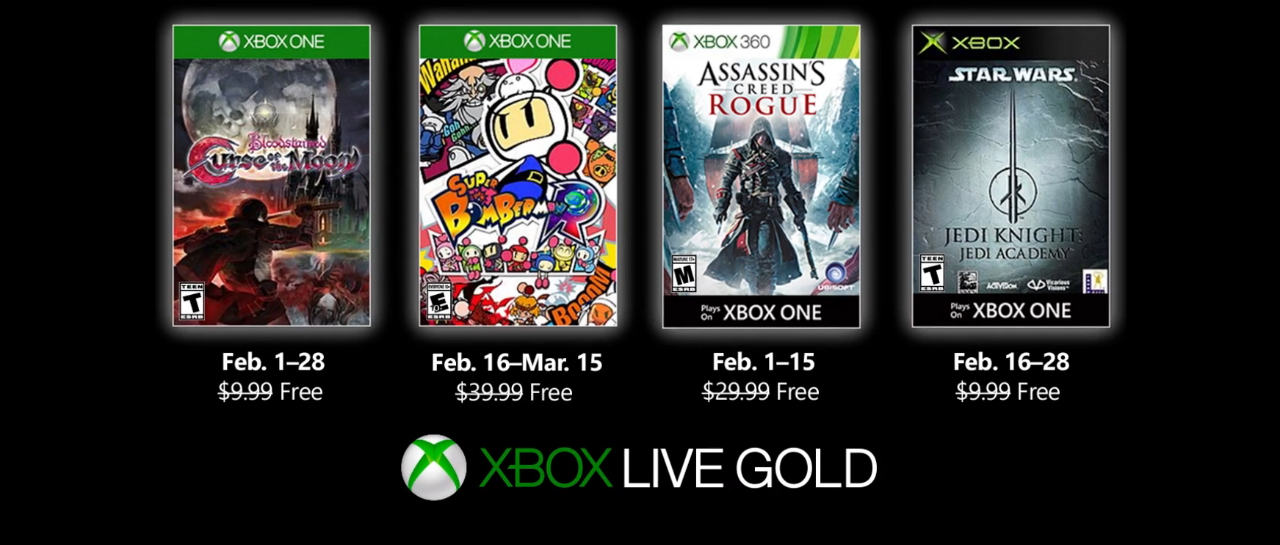 El viernes inicia febrero y, como ya suele ser costumbre, Microsoft se encuentra listo para darle la bienvenida al mes como es debido: ¡Con muchos juegos gratis! O bueno, esto claro si eres suscriptor de Xbox Live Gold. Así que pon atención que acá te decimos los títulos que formarán parte del catálogo de Games with Gold de febrero.
Como siempre, serán cuatro los juegos que podremos ir descargando a lo largo del próximo mes, dos para cada una de las consolas de Microsoft. Empezando por Xbox One, durante todo febrero estará disponible Bloodstained: Curse of the Moon mientras que, del 16 de febrero al 15 de marzo, lo estará Super Bomberman R. Pasando a Xbox 360, en la primera quincena del mes será posible bajar Assassin's Creed Rogue mientras que, en las semanas restantes, se activará Star Wars Jedi Knight: Jedi Academy.
Todos los juegos en conjunto cuentan con un valor de casi $90 dólares, mismos que nos ahorraremos por el simple hecho de ser suscriptores Gold.
Fuente: Xbox News